Our History
We design handcrafted pieces for home decoration and fashion design, with unique designs that fuse design trends and contemporary fashion with the art of artisanal weaving in natural fibers from the iraca palm. We are Ochabe, a Colombian company born from the inspiration of grandmother "Ocha" and great-grandmother "Machabe", who were creative and enterprising women of indigenous descent; they passed on their weaving skills to their families.
Today her granddaughter Ana María Márquez wants to honor that legacy through the preservation of ancestral techniques of the community of weavers from the municipality of Usiacurí, Atlántico, Colombia; at the same time carrying out significant tasks that contribute to the social development of this community. Ochabe currently makes exclusive collections for clients and own collections.
Our Mission
We preserve the ancestral weaving of the artisan community of Usiacuri, Atlántico, Colombia. Our goal is to inspire the client to value the process and learn about this artisan technique that has a history of more than a century. We recognize the importance of quality over quantity and the value of slow life that protects nature.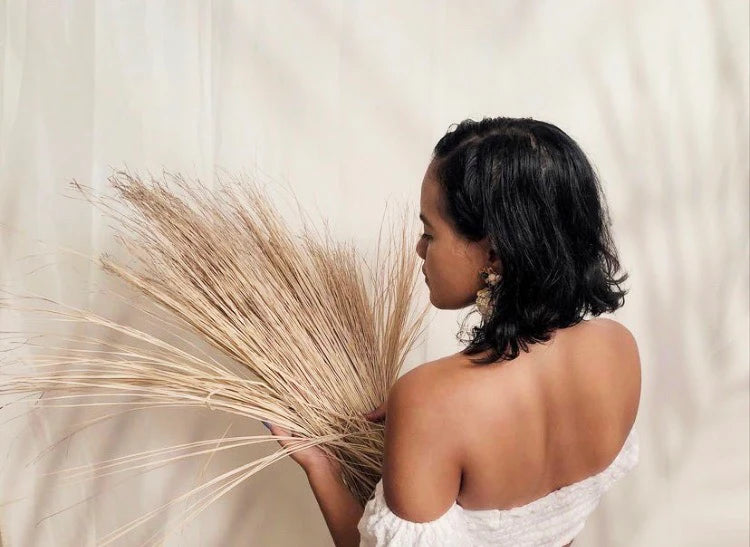 The Iraca Palm - a 100% Natural, Vegan, and Raw Material
The iraca is a wild plant that grows throughout Latin America in warm and temperate climates, it reproduces in its natural environment, by issuing suckers generated by its rhizomes, and even by seeds.
The natural fibers of this plant have become the main material of the traditional craft work of the municipality of Usiacurí, Atlántico, Colombia.
Being of great importance for the daily livelihood of more than 7,000 artisans who are located in this Colombian town, at Ochabe we want to preserve the family tradition of weaving exclusive handmade products that are synonymous with ancestry, thus maintaining our roots from generation to generation.